Fired Tennessee cop was reportedly disciplined twice before scandal
A Tennessee cop who was fired for alleged sexual misconduct with six co-workers had reportedly been disciplined for "repeatedly crashing her patrol car" during her two-year spell in the force.
As reported by the Daily Mail, Patrol officer Meagan Hall of the La Vergne Police Department and four other officers were dismissed following the alleged incidents of sexual relations happening within the department.
Officers Juan Lugo-Perez, Lewis Powell, detective Seneca Shields, and Sgt. Henry Ty McGowan admitted to the allegations following an internal investigation.
Patrol and K-9 Officer Larry Holladay, Patrol Officer Patrick Magliocco, and Patrol Officer Gavin Schoeberl have been suspended for their alleged sexual encounters with Hall. Patrick and Lewis were both married, per reports.
Hall allegedly kept the sexual relationships secret from her husband and asked other officers for money to book hotels, with some of the incidents occurring within the department's gym.
Congratulations to Officer Maegan Hall who was sworn in this afternoon by Chief Davis. pic.twitter.com/egRoXkVDid

— La Vergne, TN Police Department (@LaVergneTNPD) August 19, 2021
Despite the reports, Hall's husband Jedidiah is reportedly staying with his wife in the hopes of salvaging the marriage.
The Daily Mail has further revealed that 26-year-old Hall was reportedly disciplined before these scandals came to light, due to reportedly crashing her patrol car on more than one occasion.
In a freedom of information request obtained by the outlet, it revealed that Hall was involved in three fender benders, with the first coming in November 2021.
"While responding she traveled on Floyd Mayfield and crossed over the dip at Sand Hill at a high rate of speed," the report states. "She failed to slow down going through the intersection. This resulted in functional damage to her patrol car of $1,000."
The second collision took place the following year in July after Hall attempted to merge lanes after she realized she was in the wrong one.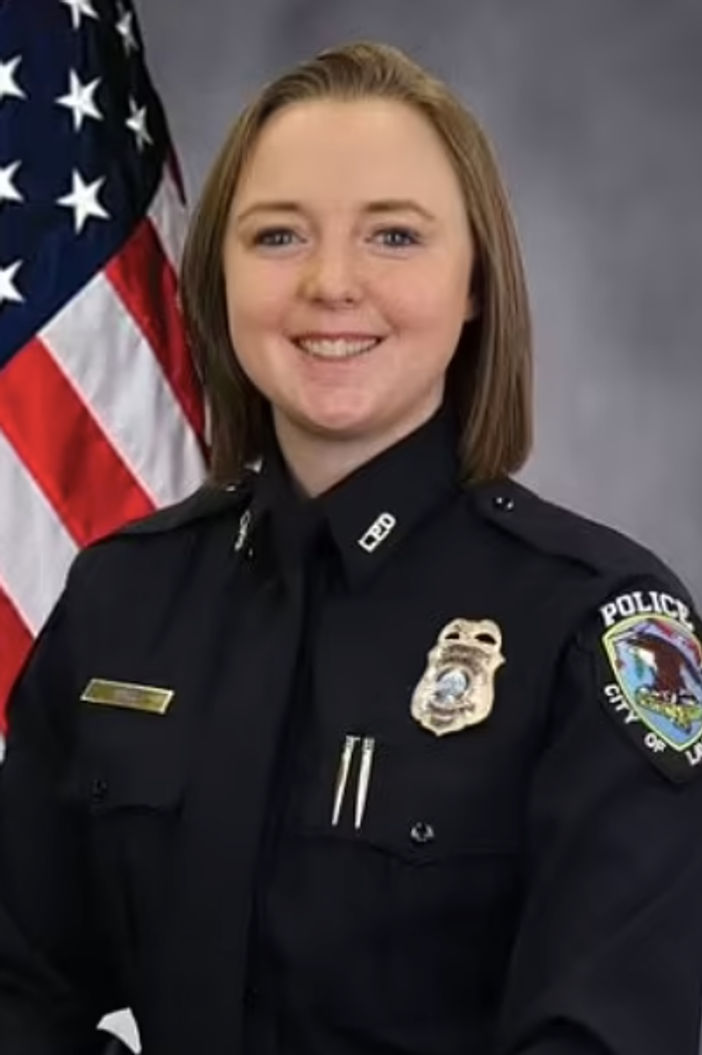 Meagan Hall. Credit: La Vergne Police Department
"Hall states she thought the driver of the vehicle in front of her had already merged and accelerated onwards. These actions caused a collision between the vehicles. Initial repairs for both vehicles are between $3,000 and $4,000," the report revealed,
The third incident in October 2022 ended with Hall being suspended for three days after she was responding to an assault, and she pulled out across multiple lanes of traffic into the path of a van.
"Both vehicles ended in the center median with substantial damage to the van and Officer Hall's patrol vehicle. Officer Hall was injured in the crash and taken to Stonecrest Medical Center," the statement said.
Hall was reportedly told that she would be terminated if she was involved in another "preventable" car-related incident within the next year.
But her career came to an end following the scandal within the department, and now Hall is focused on fixing her marriage.
"I don't want to discuss it, I'm just going to move on and live my life," she told the Daily Mail.