Mickey Rourke says 'no way in hell' Alec Baldwin should be blamed for 'Rust' death
Mickey Rourke has defended Alec Baldwin in the wake of the criminal charges he is facing more than a year after cinematographer Halyna Hutchins was fatally shot on the set of the movie Rust in New Mexico.
Yesterday, it was confirmed that 64-year-old Baldwin, as well as 25-year-old Rust armorer Hannah Gutierrez-Reed, will be charged with two counts of involuntary manslaughter.
This comes more than a year after 42-year-old cinematographer Hutchins was shot dead after a prop gun, which Baldwin was holding at the time and which contained live rounds, accidentally went off. Director Joel Souza was also wounded in the incident.
Taking to Instagram, Rourke, who was a guest on the SNL star's podcast back in 2016, criticized the decision to charge Baldwin.
Posting a photo of Baldwin, Rourke told his 267,000 followers in a lengthy caption: "I usually never put my 2 cents in about what happens on someone's movie set. It's a terrible tragedy what happened to a cinematographer Halyna Hutchins.
"But no way in hell actor Alec Baldwin should be charged with any negligence whatsoever. Most actors don't know anything about guns especially if they didn't grow up around them.
"Alec didn't bring the gun to the set from his house or his car, when weapons are involved on a movie set,the guns are supposed to he handled only by the 'weapon armor' . In some cases the 1st AD might pass a gun to an actor, but most of the time the gun is handed to the actor directly by the 'gun armor'. There's what armor's job is on the set.
"To have an expert around any type of dangerous weapon. The actor then has an option of dry firing the gun him or himself to double check. Noway in hell should Alec Baldwin be blamed for this unfortunate tragedy.
"Why the powers to be charging Baldwin with this responsibility is terribly wrong. I am sure Alec is already suffering enough over what happened. But to lay a blame on him is terribly terribly wrong."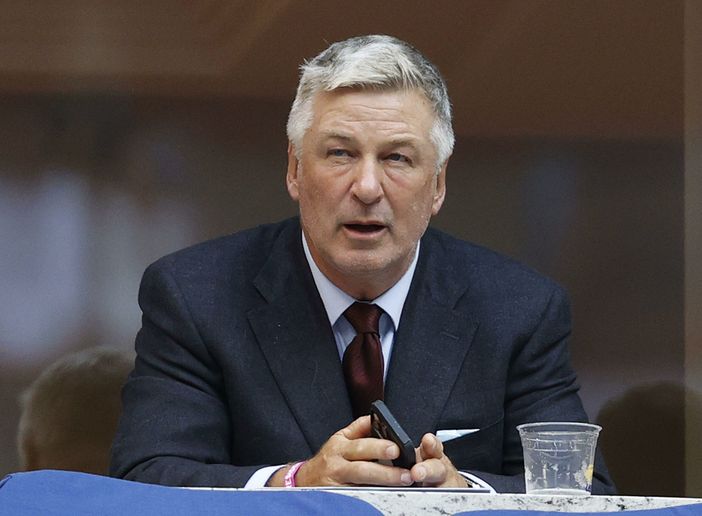 Credit: UPI / Alamy
The Wrestler star concluded his post by sharing his "deepest condolences" to Hutchins, her family and her friends.
While preparing for a scene, Baldwin reportedly discharged a live round from a revolver, killing the Ukrainian-born mom of one. In New Mexico, involuntary manslaughter is a fourth-degree felony that carries a maximum sentence of 18 months in prison.
The movie's first assistant director David Halls has agreed to plead guilty to the charge of negligent use of a deadly weapon, it has been reported.
Baldwin's attorney Luke Nikas responded to the charges in a statement on Thursday, saying: "This decision distorts Halyna Hutchins' tragic death and represents a terrible miscarriage of justice.
"Mr. Baldwin had no reason to believe there was a live bullet in the gun — or anywhere on the movie set. He relied on the professionals with whom he worked, who assured him the gun did not have live rounds. We will fight these charges, and we will win."